Koguma is the main character in Super Cub.
Koguma is a petite young girl with short black hair and blue eyes. She wears a midnight blue school girl outfit, white socks, and brown shoes.
Koguma is a taciturn young girl that gains friends, self-confidence, and the thrill of adventure after purchasing her Super Cub.
Koguma's father died when she was young and her mother left when she entered high school. She doesn't have any other relatives and lives by herself. She also doesn't have any hobbies or any friends and is quite unnoticeable at school.
During her second year in high school, she sees someone driving a scooter and realizes that with it it would be much easier to come and go to school. She ends up visiting a motorcycle shop and purchases an used cheap Honda Super Cub. From that moment, her life changes as she gets more into the scooter which becomes her hobby. Reiko, a fellow scooter lover, hears that Koguma drives a cub and they become friends sharing same passion for cubs.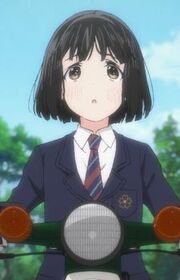 Community content is available under
CC-BY-SA
unless otherwise noted.